We are looking for suppliers who:
Do their homework to fully understand how their products and services can directly benefit our supply chain and support delivering safe and reliable gas to our customers
Share our commitment to performance excellence in terms of safety, quality, cost and performance
Are financially healthy and who continuously are focused on improving affordability and efficiency for our customers
Share their knowledge for how we can all better manage our businesses and deliver best value solutions
Conduct their operations in a professional and respectful manner and share our commitment to ethical business practices
And even more important, we need suppliers who are looking toward the future with us, applying what we learn together as we continue to invest in technologies that will help us deliver utility of the future
It takes both of us – SoCalGas and our suppliers – working together to be successful.
We strive to do business with suppliers that can meet our supply chain requirements. The following are minimum requirements that our prospective suppliers are required to meet. These requirements may change from time to time.
Legally Registered Business
Prospective suppliers must have a legal entity, business license and all state/federal business requirements met to do business with us. Suppliers must meet requirements for all services, materials and products they supply.
Established Business
Prospective suppliers should be in business for at least one year and have other satisfied customers.
Financial Stability
Prospective suppliers need to have good financial standing. From time to time we may review the credit rating and financially stability of suppliers.
Insurance Requirements
Prospective suppliers must have full insurance coverage compatible with the risks of their business. We determine the insurance coverage required in relation to our contracts.​​​​
Our Partnership
For suppliers to be awarded continuing business, we have additional programs they must participate in.
Supplier Relationship Management
In support of our best overall value goal, we have adopted the Supplier Relationship Management (SRM) model to assess metrics based on our business practices and industry standards. We expect all suppliers to, at a minimum, meet the requirements of the contract terms and conditions. Suppliers must follow all scope of work requirements and fulfill the intent of the contract for all services and materials provided. When asked, our suppliers are required to participate in the SRM process in order to track their performance and assess potential areas of improvement that may be needed on either side. ​​​​​​Throughout the contract period, we will use the information gathered in the SRM process ​to provide feedback to suppliers on their performance.
We believe that safety is paramount and should be built into a product or service. Our suppliers are expected to be able to demonstrate their safety programs and should adopt methods to ensure safety means and methods are part of every process. To assist in this area, we utilize ISNetworld to collect and process your safety data. Participation in ISNetworld is mandatory for all of our suppliers. More information about ISNetworld can be found on their website.
 
If you are a supplier that has never done business with us before and you are interested in doing business with us, please let us know by signing up in our Supplier Intelligence system. Once you complete your signup, you are automatically added to a searchable database our Supply Chain team can use to invite you to sourcing events. Please keep your information in Supplier Intelligence up to date, as it is how we know what sourcing events would be best to invite you to. By signing up in Supplier Intelligence, you will also have access to our Sourcing Intelligence system through the same link and login information. Sourcing Intelligence provides you access to the sourcing events we invite you to, as well as a dashboard of all events posted within the system which you can use to request an invites to the events you are interested in.
Once you have participated in a sourcing event, and have been selected to move into the agreement process, you will receive an invitation to complete the supplier registration in Lavante. At this point in the process you will have a specific point of contact in Supply Chain who will be able to guide you and answer any questions you might have.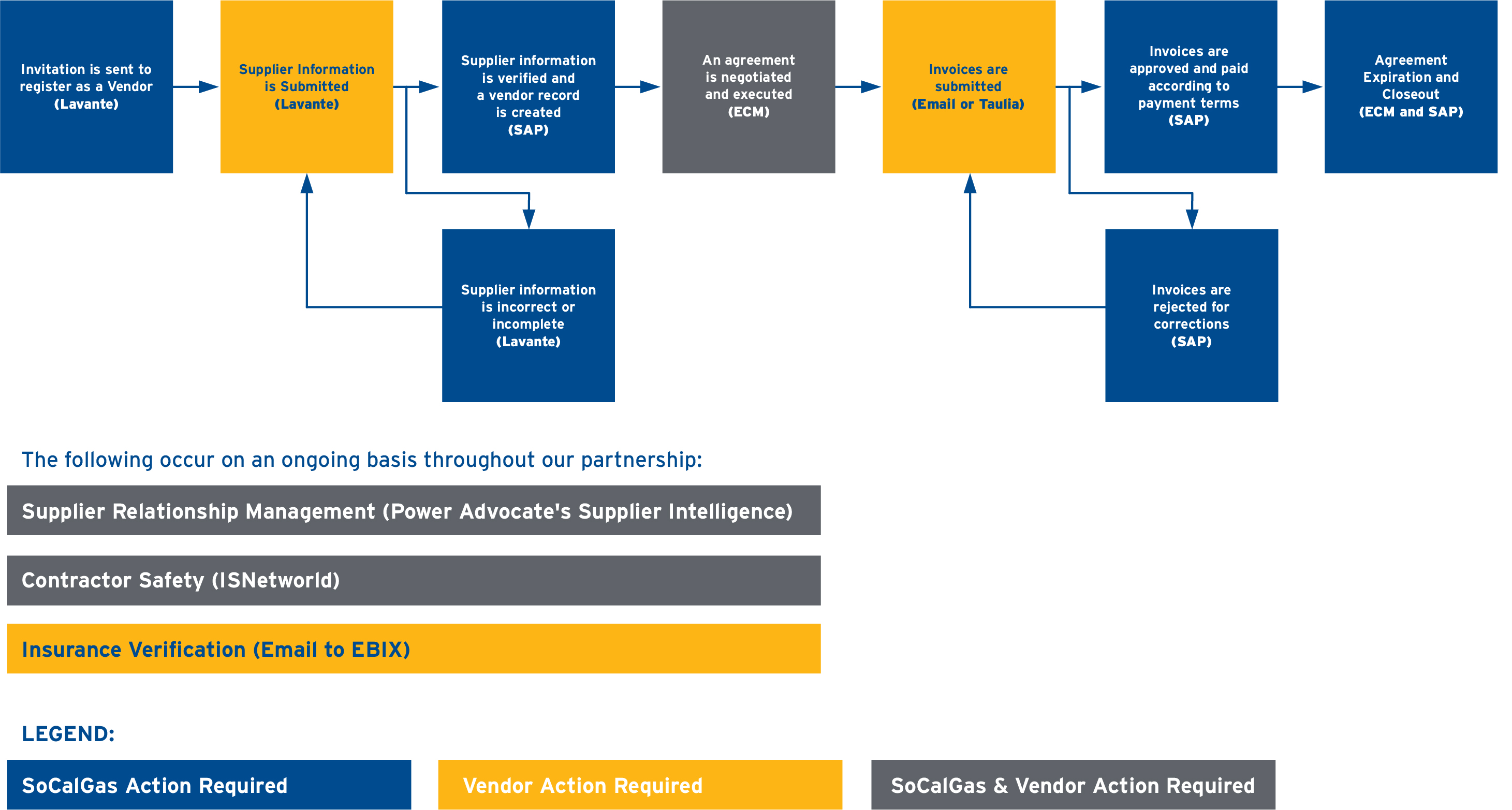 Lavante - Supplier registration and verification.
SAP - Vendor Record management and invoice receiving/processing.
Taulia - Alternative invoice receiving/processing. Taulia provides more precise details about the status of a submitted invoice and allows suppliers to select dynamic discounts.
PowerAdvocate Supplier Intelligence - A way to communicate with suppliers and collect information related to various SoCalGas efforts including sustainability and SRM.
PowerAdvocate Sourcing Intelligence - Used to run sourcing events that suppliers and potential suppliers can participate in.
EBIX - Used to confirm insurance requirements are adhered to.
ISNetworld - A system used to gather information related to our safety program.